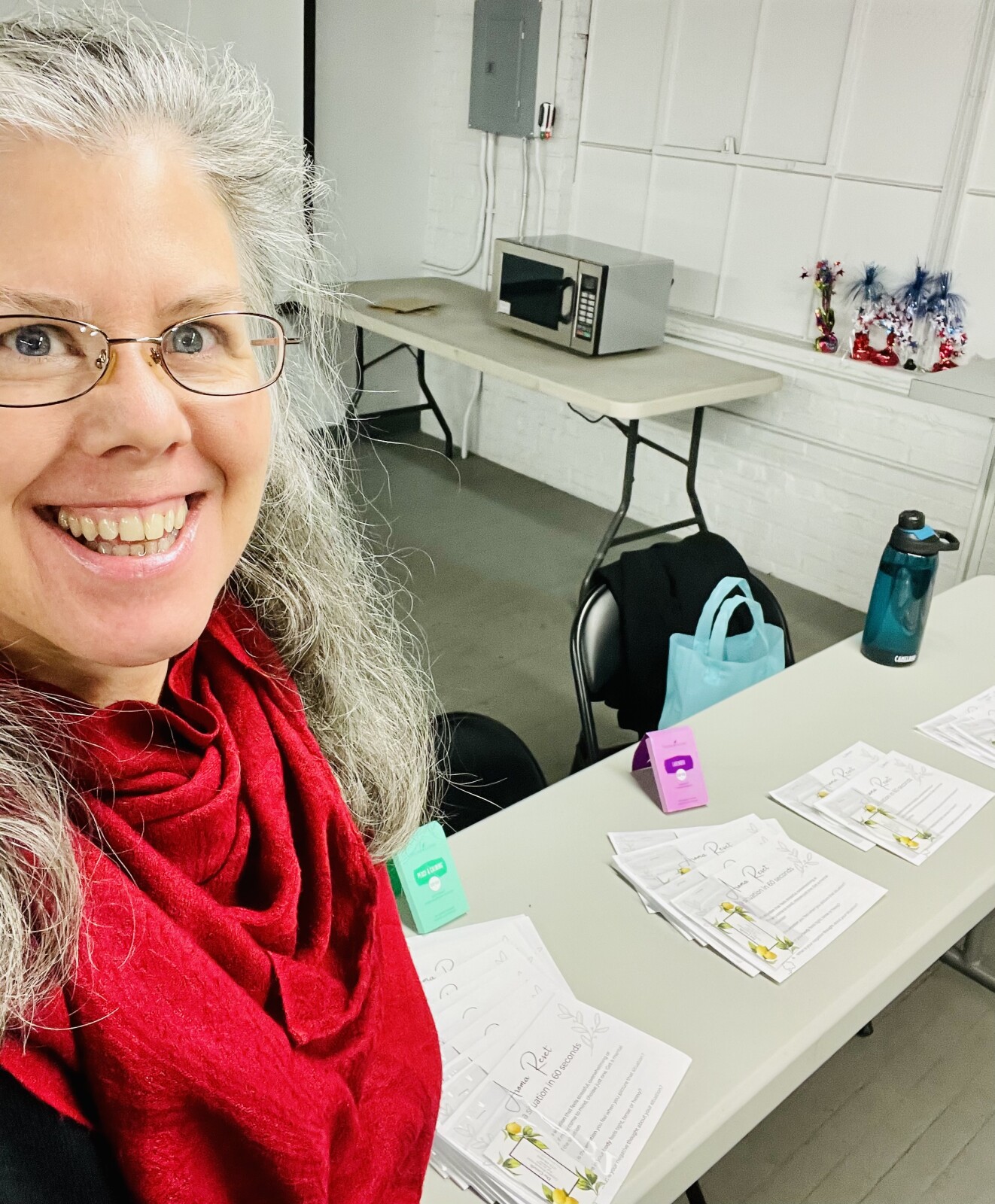 The other day was my first time doing an in-person Aroma Reset. I've never done any in-person Aroma Freedom session. It was such a blessing to interact in a new way! Each week I lead a room on Clubhouse, which is audio-only social media, and video sessions with my Level UP members.
Watching 18 men and women experience a shift in just 60 seconds was amazing. They shared some remarkable results!
Participants said they felt calmer, at peace, more in control, less angry, more relaxed, and had new thoughts and ideas about their situation. One lady said she even managed to smile about a previously challenging situation. Does that sound good to you?
Molecules that create aroma are in the air all around us. Did you know if oils are not readily available, just inhaling still works? Ideally, use quality essential oils for a reset. I prefer the two brands linked at the bottom of my website.
Another option, if you or someone you share this with wants to explore without oils, is to try an herbal tea bag or dried herbs and spices. Use something from your kitchen, not synthetic fragrances like hand lotion or scented candles. It needs to be from something botanical because of how aroma molecules interact with our brains. You can't get therapeutic benefits from artificial fragrances.
7 Tips for Handling Challenging Situations
Acknowledge your situation (Sometimes it's easier to stay in denial when facing a difficult situation)
Do an Aroma Reset on your situation to help you with the following recommended steps:
Change what you can - your emotions and thoughts about your situation. We cannot control others, and sometimes our circumstances cannot be adjusted. We can change our view of things, and a reset helps create that shift.
Accept what you can't change at present with the hope it may change in the future.
Identify one small step to flow through your situation with more ease. Put this item on your calendar or planner as an appointment. Then do another reset to identify another step. Keep going!
Seek, receive and accept help when needed - if you would like a one-hour session focused entirely on your specific concerns, I'm here for you!
Develop skills to cope - do research, and I have several courses available to help with coping skills.
Profound thanks to Dr. Benjamin Perkus for this beautiful tool I continue to share with others. We are indeed wonderfully made, and such a simple four-step process has helped many.
If you use this tool, please share your thoughts in the comments!
If you don't have the guide get it here:
I'll also send you some recordings so you can listen for a guided session.
---
Bonus Info - Galatians 5:22 and other verses use the word patient. It literally means "longness of spirit" and "length of nostrils" in Hebrew. The original Greek and Hebrew carry the idea of
patient endurance with a refusal to give up hope
. It is mindful and deliberate. It has a purpose but does have a definite limit and end. It does not mean condoning wrong or injustice. If you'd like further info on this
message me
.
Share your thoughts and comments below ▼ I love hearing from you ❤️
Click here to get your Aroma Reset guide
- This simple technique
clears your limiting beliefs and negative thoughts
. Your powerful sense of smell unlocks the part of your subconscious brain responsible for making decisions on autopilot. That instinct or survival brain isn't open to reason and logic. Empower yourself at
that
level to accomplish every goal you set!
---
Copyright © 2023 All Rights Reserved by Lemons and Sage, LLC