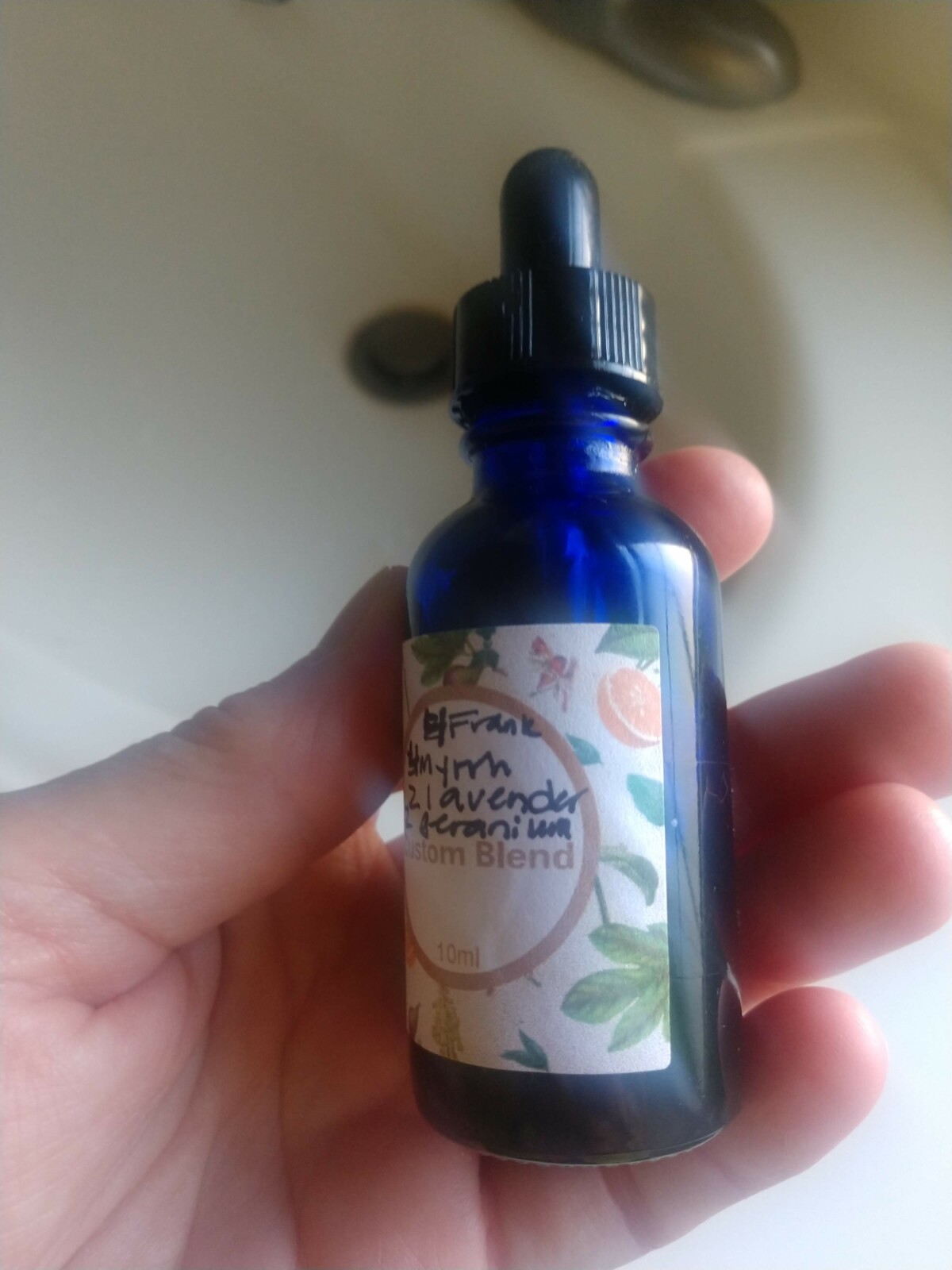 Time to refill my face serum! I choose different essential oils every time but always face nourishing and healing.
My favorite carrier of all time is
rosehip seed oil
. All by itself it's skin healing but add essential oils and now it's super powered! Avocado oil and sweet almond oil are super oils for skin support.
Some essential oils that are super supportive especially for aging skin are frankincense and myrrh. Both are from a resin so super healing. I have a workshop for blending by plant part as part of my
emotional balance
workshop.

Sometimes I add geranium and lavender. Geranium is from the leaves and lavender from the flowers so both are emotionally supportive plus both are great for skin. Emotional support slipped into skincare and rolled into one! Pretty cool, huh?
Add a pretty sticker with what oils you used or add
a
note to your recipe printable. Any sticker will do but I print mine off Avery Design and Print free online and purchase blank sticker sheets.

Other oils I would recommend are cedar wood, chamomile, helichrysum, patchouli, sandalwood, vetiver and ylang ylang. Juniper berry and cypress are good too. Use what you have on hand or what oils "speak" to you, which ones you're drawn to. Listen to your body, it know what it needs. Be sure to use good quality essential oils and here's a quick and easy click and go supply list!
Here's a quick video demo:
---
Recipe
Resources
In the curated list are all ones I've purchased in the past and liked. Not all of these meet my criteria completely: organic and nonGMO is a must for me and if I can get it cold pressed plus hexane free that's a bonus. Usually cold pressed is hexane free but not always. That's a chemical both nut oil and essential oil producers use to get more yield of plant material. Chemicals in exchange for profit, no thanks. That's another reason I'm a fan of Young Living essential oils and all the other products that help me reduce toxins in personal care and home cleaning.
If you haven't caught my workshop on plant power and essential oils you can
grab that here
Share your thoughts and comments below ▼ I love hearing from you ❤️
Click here to get your Aroma Reset guide
- This simple technique
clears your limiting beliefs and negative thoughts
. Your powerful sense of smell unlocks the part of your subconscious brain responsible for making decisions on autopilot. That instinct or survival brain isn't open to reason and logic. Empower yourself at
that
level to accomplish every goal you set!
---
Copyright © 2023 All Rights Reserved by Lemons and Sage, LLC