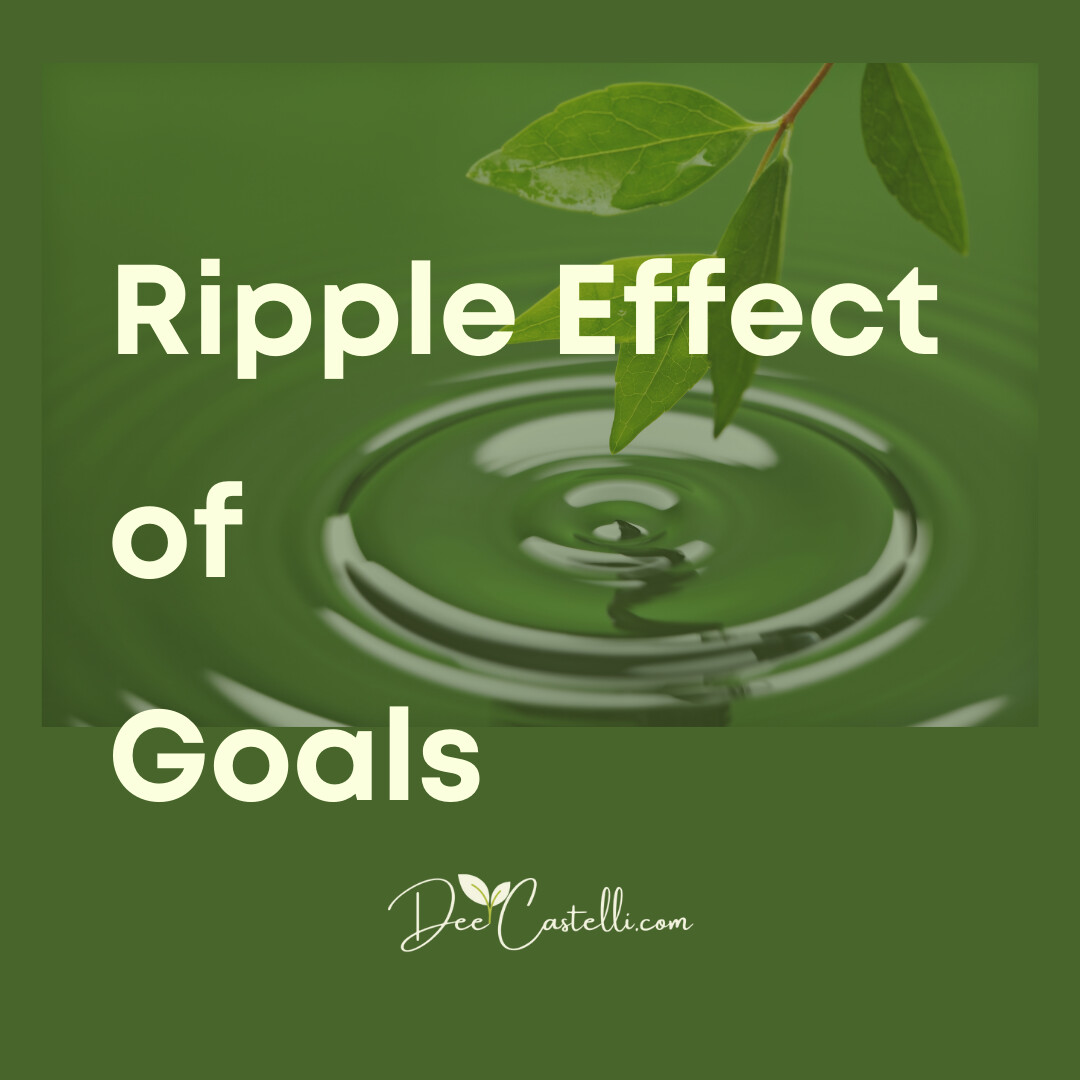 Small changes have huge benefits! Here's how tiny goals can empower your growth and emotional balance to create a ripple in your life!
The other day during an interview on Instagram live Tara, founder of Hey Girl You Can, referred to me as a "ripple goal setter". She mentioned how she has seen how my goals always involve other people and other people are blessed by me reaching my goals. So my goals didn't benefit just me, others benefit from me reaching my goals. I'd never thought of it that way and appreciated her observation of me.
I had never heard this term "ripple goal setter" and started thinking about it deeply the past few days.
Your Pebble
What would your life look like with a bit more confidence? How would your life change if you felt truly content? What would your day look like if you had something to look forward to and accomplish?
That's the ripple effect of your goals. The past few weeks we've been talking about the value and benefit of goals. Setting goals helps promote feelings of hope. Meeting small goals promotes feelings of contentment. Achieving small goals blesses us with feelings of accomplishment.
Your Ripple
Let's take it a step further. How do you think your interactions with others in your life would be affected by your increased level of confidence, hope and feelings of accomplishment? Why would that nourish your relationships and friendships?
If you had feelings of confidence, hope and accomplishment, do you think that would encourage others? Do you think you would smile more? Feel a little bit lighter? What if this started to further ripple so you were able to encourage others in their tiny goals?
Emotions are contagious
. When we're smiling others smile. So if we feel more confident, filled with hope and joy and it spills out when we interact with others then they too are lifted. THEN they would, in turn, leave their time with you lifted and that will affect others. So the ripple continues in ways you may not observe!
Three Pillars
My website and all I do is built on three pillars - emotional balance, gentle boundaries and empowered growth. That is how it flowed for me, it rippled. Once I had more balanced emotions, rather than react I responded. I was able to have gentle boundaries that nourish healthy relationships. In turn my growth comes from a place of empowerment. Those three pillars are the foundation of my Level Up program.
If emotional balance, gentle boundaries and empowered growth sound good to you, stay tuned and get ready to Level UP!
Bonus Video
In case you missed it, here's the interview with Tara
---
---
Your emotional healing begins here.
Watch this complimentary video
to begin your emotional healing TODAY. This concept in this first video of a three part series.
If you would like to chat about your healing journey and your next steps,
message me
and mention this post.